Aging Mastery Program
Monday, September 13, 2021 4:30 AM - Thursday, October 14, 2021 6:00 PM (CDT)
Description
Join the adventure!
Aging & Disability Resource Center and Extension Adams County will be running the Aging Mastery Program® soon!
Build your own personal playbook for aging well. This fun, innovative program empowers you to take key steps to immprove your well-being, add stability to your life, and strengthen ties to your community. Meet new friends and provide encouragement to one another as you take the Aging Mastery journey together!
There is no charge for this class!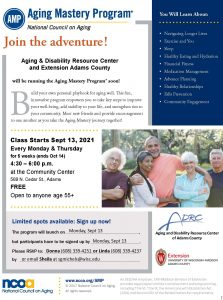 Open to anyone age 55+
Class Starts September 13, 2021 and will be held every Monday and Thursday for 5 weeks ending Ocotber 14th.
4:30 – 6:00 PM at the Adams County Community Center, 569 N. Cedar Street, Adams.
Limited spots available. To register contact Donna at 608-339-4251 or Linda at 608-339-4237 or email Sheila at sgmichels@wisc.edu.
Registration Deadline is Monday, September 13th.
Monday, September 13, 2021 4:30 AM - Thursday, October 14, 2021 6:00 PM (CDT)
Class will be held every Monday and Thursday for 5 weeks starting on September 13th and ending on October 14th.